Office Manners are about representing yourself courteously and respectfully in office.
After joining a job, it should be the very first thing for an employee to learn how to behave in office, how to deal with colleagues, how to make himself/herself more presentable, how to communicate while in meeting with the boss and so on. These all are Office Etiquettes which every person who is working in a corporate environment must follow.
There are certain rules and discipline criteria which every reputed organization holds and expects from their employees to do the same. If you are not aware of these norms, then it may lead you to lose many opportunities.
So here I have discussed about certain good manners which will definitely help you to create a decent image at your workplace.
Before knowing about office etiquettes, one must know about why they must have these certain manners–
Why to have knowledge about Office Etiquettes?
Working in a corporate field is not that easy! You have to deal with different type of people and work related issues but the thing is how efficiently and smoothly you handle them. And maintaining a good relationship with co-workers is also essential for good work outcomes and a happy co-existence.
A person who has all the good office habits can never be a topic of gossips amongst colleagues and seniors. It's not always necessary that being nice with others is good but getting aggressive on small things or keeping a wrong attitude towards others is also not an identity of a well-mannered person.
You must have heard somewhere that you cannot be a good friend with your colleagues but I don't think so! It's all up to you how you conduct yourself in front of your co-workers that they become your 'second family'.
What kind of Etiquettes one should have?
Although it won't be wise if I categorize the etiquettes into some groups as etiquettes are considered as manners which one should possess and practise when in a professional place. Below I have discussed few p's and q's of social behaviour which will help you gain an insight of what one should follow sensibly at the workplace.
Be Punctual
Coming late to office is a sign of carelessness towards work and it may look so unprofessional. At the same time, being punctual always represent you as someone who is efficient, organized and reliable.
Dress Decently
Dressing etiquette is the way we communicate through our clothes. Because dressing means a lot when going for an official meeting. Make sure you dress yourself elegantly according to the office environment.
Boys should prefer to wear shirts and trousers and girls should not wear revealing clothes.
Don't forget to use those three magical words - 'Please', 'Thank You' and 'Sorry'
No matter what designation you are holding in office, you should always behave politely with your colleagues, juniors, seniors and boss, even with the watchman or spot boys also.
Using 'Please', 'Thank You' and 'Sorry' while communicating with others is a sign of Politeness in your nature and it also reflects your basic nature.
Ask before borrowing something
Borrowing something is a big responsibility because we have to return the borrowed things as it is. In our daily life, we borrow so many things from others.
The attitude with which you approach for borrowing thing should be very genuine and polite.
It should be like – Sir/Ma'am, May I borrow it for a few days?" Then wait for his/her reply.
Keep your phone on silent mode
Keeping your phone on general mode may cause disturbance to others. So you should always take care of it that your phone is on silent mode
If you are having a discussion with someone in office, try to avoid phone calls until it's not very important. And if going to take the call, then kindly say 'Excuse Me' and pick the call up.
Don't interrupt in others matters
It's better to stay away from other's personal lives and personal issues. Helping others is not a bad thing but it should be done only when you are asked to do it. Stick to your own business!
Avoid being a part of Gossips
Gossiping is the most common thing, employees do in lunch hours. But this is not a good habit so as per the office etiquettes, one should stay away from indulging in such things. And if anybody come to you and initiate such talks, tell them very decently that you are not interested.
Keep your Desk Clean
Keeping your desk untidy may create a bad impression on others. So keep it clean and organized. Avoid eating at your workstation as the food particles can spill in between the keyboard making it unhealthy & inconvenient for use.
Refrain from being loud but audibility should be there
Speaking loudly is not considered in good manners. Whether you are talking on phone or talking to a colleague, you should maintain an audible frequency of voice.
Never hesitate in learning things from co-workers
Learning is a continuous process in fact learning should never be stopped. When any junior or our peer is willing to transfer us any new technical updates, or something which we might know about but didn't actually used it, we should wisely and happily gain it.
Help others, if they need it!
It's always better being wiser and good being kind. Your personality should be like you are easy to be approached and onE can approach you when they really need your help, be it in accomplishing office targets, deadlines for a project or some wise or rather rational suggestions.
Be a team player
When we work in team we learn how to work, communicate and reach deadlines within the stipulated time frame thereby encouraging each other's work and skills also. We should always cheerfully initiate working in teams rather than leading and journeying alone.
Working in teams also enables us to learn new skills or different ways of doing things smartly, as each new brain adds its prudence to the task.
Behave decently with each and every person in office
Courtesy should be an important ingredient of our language which should never be excluded. We should communicate with politeness, kindness and relevantly in concern with the matter. Be it a professional or friendly talk with colleagues or our bosses we should not get over friendly. For professional talk we should simply talk statements which make sense not just beat around the bushes.
Smell well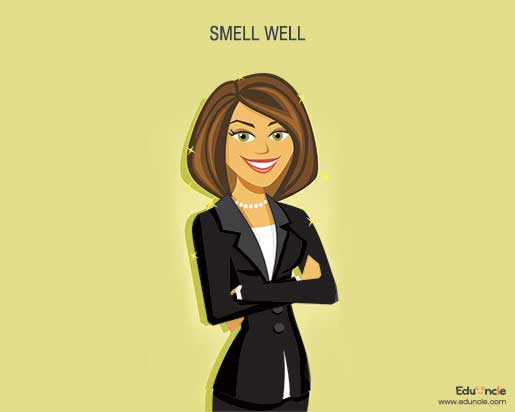 To smell well is no mandatory obligation or so, but it is consider simple human manner that we should apply a mild perfume or deodorant so that our body odor doesn't displease anyone.
** Try using mild perfumes and avoid going for the strong ones.
Business Meeting Etiquettes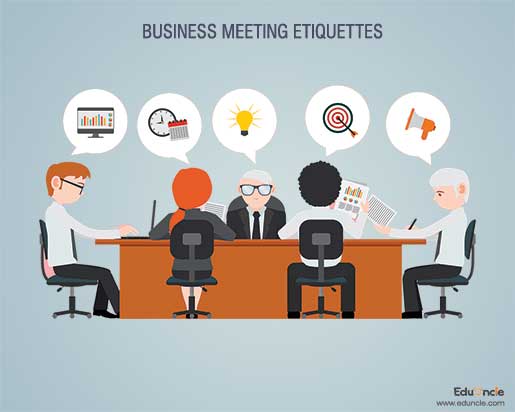 When in meeting with your boss or in a team meeting avoid receiving phone calls or checking the social media updates. The same goes true when you are the presenter.
Also, it is considered inappropriate behavior to continuously keep gazing at your phone while having a one-to-one interaction with someone.
Just to end on a happier note, we must take care of our actions and reactions too at the workplace. In fact even using our office furniture, and other appliances like the copywriter machine (Zerox machine), the water-cooler or refrigerator, the microwave and other such aides.
Also, don't forget to give respect to your colleagues and boss, the more you grant it the greater your earn it. Be an impressive personality and inculcate these simple etiquettes in yourself.
Good Luck for your new Job