"Success seems to be connected with action. Successful people keep moving. They make mistakes, but they don't quit". - Conrad Hilton.
Success greets those who have successful habits. And this fact is quite true!
Success is basically the composite of habits we follow. The attitude you retain towards your work & dreams, decides how much and how fast you'll succeed in your career. If keeping good habits can make your career a shining one, then the unpleasant habits can leave you with nothing in hand too. So, it is important to analyze which habits you'd like to keep with you.
While talking about the successful people, we can't deny the fact that they set themselves up for success in a few specific ways. They have many habits in common and some of them are given below. If you want to become successful in your initial phase of life, then go for it!
10 Habits to Lead You to Success - Follow them to Fulfill Your Dream!
Below we have listed the essential habits of successful students and the influential people who achieved success in their lives by starting from zero. Please have a look at the habits that can turn your life journey into a fruitful one!
1. Say Goodbye to Bed Early in the Morning
Nearly 50% of the successful students leave their beds early in the morning. Many of them utilize this time to plan for their daily targets, do exercises and revisions. Research shows that not only early risers are more optimistic and meticulous, but they also anticipate problems and minimize them more effectively comparing to the others.
Getting up at 5 am will help you to achieve the best results and regain the self-control of life.
2. Stay Dedicated Towards Your Goal
According to a research, most of the successful pupils plan to succeed and they make it happen by putting a lot of efforts into the right direction and working constantly on the same every day.
They divide their targets into small fragments and try to achieve them within the self-assigned deadlines.
Success never comes within a night, it requires months, days & hours filled with great dedication and continuous efforts. If you want to become an idol in the millions, then make your own wall of dreams and start climbing on it with the ladder of hard-work & dedication.
3. Stay Persistent & Self-Confident
Self-confidence is a fruit of mastering the skills of oneself by practicing regularly. Successful students do not have such negative words like – 'Impossible or I Quit' in their dictionaries. It's very important to keep your worries in proportions and stay calm so that new ideas could generate in the mind and you can anticipate the success.
They keep going on with the persistence & self-confident attitude because they believe that the self-confidence of a person can make him win any battle before it starts.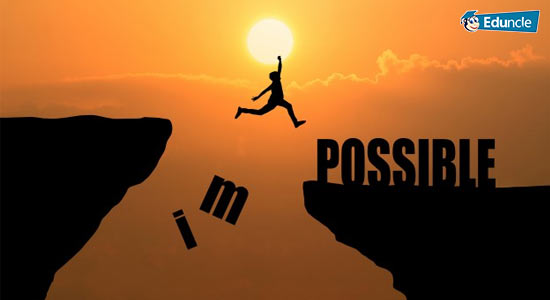 4. Be Sure about your Career Path!
Successful people know their passion & they continuously burn the candles in their field of interest. Only those students are believed to succeed in the career who work with the positive attitude.
More than 60 % of the students are engaged in the field they are not much interested. Either, the course is referred by their relatives, teachers or they choose the field in which their friends and siblings are already doing well.
Suppose you have interest in Journalism whereas you are studying Engineering. Now, do you think that you'd be able to get through this career for long? I guess it's a no! So, instead of choosing any career by considering its illustrious career scopes, choose the one in which you can perform well.
5. Don't Keep Your Doubts to Yourself! Ask them!
An investment in knowledge pays the best interest. The successful people never keep their doubts to themselves, they strike up their questions whenever they get a chance.
No matter whether you are in school, coaching or at any other public place, never hesitate to ask your questions in front of people. There's nothing bad in getting your doubts resolved by asking them to your mentor! Rather, it can help you in finding out a true way to make a generous step towards the success.
If you do not clear your doubts, this might bring you in a big loss. Instead of sitting quietly in the lectures, toppers strike up conversations with the lecturer & keep on asking questions. It also develops the student's interest in learning & helps them in engaging more in the studies.
6. Push Your Limits! Do Something Unique in Your Life
No student would like to read the same course book every time and no professor would like to teach the same thing repeatedly. Same goes for every human being! People are not robots so that they can repeat their tasks and do them with a consistent efficiency every time.
Successful students anticipate the potentiality in every field, other than studies. If you are interested in Sports then never stop yourself for this, Make a proper balance between both, studies & passion.
7. Bounce Back from Failure
If you really want to succeed in your life, you must know very well about your mistakes and the ways to improve them.
A wise man always learns from the mistakes and try not to repeat them. A student must always look at the previous test scores and analyze his/her mistakes.
Have you heard the story of 'King Bruce and The Spider'? The story is a perfect example for all of us. If a small spider can face the failure bravely, why should you give up so easily!
Failure is the initial step to success. Every person faces failure in his life but the fact is that the successful people learn from their mistakes and do not repeat them.
8. Take More Care of Your Health
A healthy body & mind is a symbol of successful people. Have you seen something unique in successful people? Well, the daily habits they follow is the answer.
They talk differently, they walk differently, they have an aura around them that makes them different. Being successful depends on how you take care of yourself. Suppose, there is an important conversation going on during your exam or meeting and you are feeling asleep. Do you think you can perform well? Well! I think, no you can't.
9. Utilize Your Time!
You must have heard that time is a precious thing. So, you must utilize it as much as you can. People often waste most of their time in gossiping and criticizing others. Instead of doing it, they must focus on their goals and find out the way through which they can do something outstanding in their lives.
Talking about people is easy but achieving something by your own is quite difficult. So, take your time and utilize it to have a better future.
10. No Excuses Anymore!
You can't be successful if you keep making excuses for not completing your tasks. Many people have the habit to complain about the lack of money, time and other important resources. But those who are already successful or wish to succeed in their lives don't make such excuses. They fight up every situation with bravery and a positive approach. Such people always have an optimistic attitude to find a way out of problems.
If you want to become successful in your life, then here is the perfect mantra for Success – 'Make No Excuses!'
.
These were the most effective & common habits of highly successful people. You must follow them to achieve your milestones. Jim Rohn strongly believes- "Success is nothing more than few simple Disciplines, practiced every day".
So, don't wait for the opportunity, uplift yourself with a positive approach and get set go for success.
What do you feel after reading this post? Please share your feelings and feedback with us! Share your own examples of keeping good habits. Go down to the Comment's Box, drop your query/feedback and submit.
Would you like to read these also?
Effective Techniques to Prepare Short Notes
How to Take Online Tests? Read Experts Tips!
10 Habits to Boost Your Brain Power! Start Following Now!
How to Be a Great Communicator? Be an Inspiration!
Stay Tuned Folks!