Hello Aspirants, Welcome to the Knowledge Place!
It's time to make you all aware of 'which banking body is better to get recruited in and why should you choose them'!
To slake your thirst of knowledge, we have come up with the detailed information about SBI PO vs IBPS PO, in which we have provided the clear distinction in the terms of PO banking benefits, salary structure and other perks that an employee can have while working with the SBI Banks or IBPS Banks.
Nowadays, every another eligible graduate dreams to get the most prestigious position like Probationary Officer in any of the Government Banking Bodies. Therefore, the exam convener bodies SBI and IBPS are offering more and more job opportunities.
But the candidates are confused amongst so many choices. This is why, Eduncle has come up with the clear distinction between IBPS PO and SBI PO. Check out the SBI PO vs IBPS PO below in the blog.
Eduncle benefits you with the complete IBPS PO Preparation Study Material and Online Learning Packages! Catch up the best deals now!
To choose the best suited job option in between IBPS PO and SBI PO, please check out the points given below-
SBI PO vs IBPS PO – Which one is the Best Job Option for you?
Before beginning, it is important to note that IBPS is recruitment agency which offers banking job opportunities for 23 Public Sector Banks except SBI and conducts various examination for the same also.
Whereas SBI is a banking branch itself, which conducts the recruitment examination for filling up the vacant seats at SBI and its associate banks - State Bank of Bikaner and Jaipur, State Bank of Hyderabad, State Bank of Mysore, State Bank of Patiala and State Bank of Travancore.
Now, coming over to the main topic i.e. SBI PO vs IBPS PO.
Designation and Tasks of Probationary Officer in SBI and IBPS Banks
Designation-
SBI PO: A probationary Officer in SBI Banks is designated as Junior Management Grade-1 Officer for 2 years of training/probation period.
IBPS PO: The candidates who join IBPS Banks are designated as Officer Scale-1 or Assistant Manager for 2 years of probation period.
On the successful completion of training, the employees have to clear the screening process.
Those who achieve the predetermined standards will be promoted to the next higher grade i.e. Officer Middle Management Grade Scale-II (Manager).
Those who qualify in the test but fail to achieve the standards are designated as Middle Management Grade Scale-II Officer.
And the candidates who fail to qualify the test are terminated.
Job Tasks-
Customer Support – Guiding Customers about the various banking facilities that are suitable and beneficial for them. Also making those services available for them.
Business Enhancement – The Probationary Officers are trained in the field of Marketing, Accounting, Loans and Finances, so they can produce effective ideas for business enhancement. Also, they can communicate with customers and business persons smartly.
Cash Handling and Payments Clearance – Usually, these tasks are done by Clerks but under the supervision of PO. The PO of the bank has to manage everything and sometimes, these processes require his approval and authority.
Manage accounts of customers and Loan Processing – The Probationary Officer keeps track of all the customers' accounts. He is also responsible for approving their loan requests.
For detailed information, you can visit to - IBPS Bank PO Job Profile | Meaning, Role, Work Life of PO in Banks.
Salary Structure of IBPS PO and SBI PO
SBI PO:
| Salary Structure | Amount |
| --- | --- |
| Basic Pay | INR 27620 |
| Annual Increment | INR 980 for 7 years |
| Dearness Allowance (DA) | 39.80% of the Basic Pay (Revised Quarterly) |
| City Compensatory Allowance | @4%, 3% or 0% (Depends on the place of posting) |
| Special Allowance | @ rate of 7.75% |
| House Rent Allowance | Depends on place of posting |
| Total Salary | INR 45,000 per month (It may vary as per the HRA) |
IBPS PO:
| Salary Structure | Amount |
| --- | --- |
| Basic Pay | INR 23700 |
| Annual Increment | INR 980 for 7 years |
| Dearness Allowance (DA) | 39.80% of the Basic Pay (Revised Quarterly) |
| City Compensatory Allowance | @4%, 3% or 0% (Depends on the place of posting) |
| Special Allowance | 7.75% of the Basic Pay |
| House Rent Allowance | 9%, 8% or 7% (Depends on the place of posting) |
| Total Salary | INR 37,360 -38,700 per month |
Note:
SBI POs are paid 4 increments extra at the initial stage and thus their Gross Salary will be about INR 6000 higher.
As per the HRA offered by banks, you can take leased accommodation from the banks' side. (Ranges may vary from INR 10,000 to INR 29,000 per month).
Probationary Officer Perks offered by IBPS and SBI Banks
The general perks for PO offered by banks are –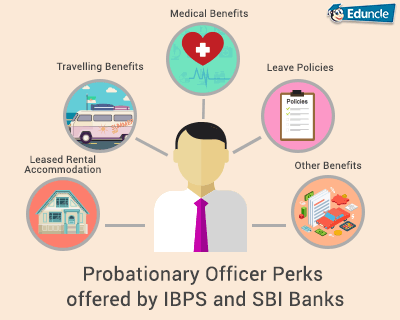 Leased Rental Accommodation
Under HRA policies, the Probationary Officers are benefitted with the housing facilities by banks. In which, the banks doesn't provide any cash payment, instead they transfer the required fund for accommodation to the House Owner.
IBPS banks: Official Bank Accommodation/Bank Quarter are provided as leased accommodation.
In SBI: Leased accommodation range from INR 8,000/- in 'C' category Centers to INR 29,500/- in Mumbai Centre.
Travelling Benefits
In SBI: The Probationary Officers can get travelling concessions while visiting to the places within India. The employees working with banks can take advantage of the bank guest houses available at various places across India.
In IBPS Banks: The employees can own vehicles from Bank's side instead of petrol bills. They can also stay at Banks' Guest Houses while visiting various places across India.
Medical Benefits
In SBI: SBI offers 100% Medical Facilities to the employees and 75% to their family members.
In IBPS Banks: The employees working within IBPS Banks are paid INR 8000 per annum for Medical Aid facility.
Leave Policies
Leave Policies include 33 days of privilege leave and 12 days of casual leave annually along with sick leave and maternity leave.
Women and single men with children or aged parents have the provision to take sabbatical leave of up to 2 years.
Other Benefits
PO's are benefitted with the Housing Loan, Car Loan & Personal Loans on concessionary rate of interest.
Bank offers scholarships to the meritorious children of all the Bank Employees.
Bank employees can also be transferred to its respective foreign branches and can get a chance to work in foreign countries.
Pension schemes are so attractive that every employee can spend his rest of life with happiness.
#SBI Compensation Scheme
The Probationary Officers are benefitted with the highest entry level compensation packages in the banking industry.
The total compensation for PO = Min: INR 7.55 Lacs per annum and Max: INR 12.93 lacs per annum.
Promotion Policies and Career Progression of PO in SBI and IBPS Banks
Career Progression and Promotion Policies can be the prime reason why any candidates join Banks as PO.
We have listed the completed details about salary and position growth in the below points. Please check it out!
Career Progression for Bank Probationary Officer along with the Salary Growth Stats:
Management Grades

Designation

Monthly Salary Structure (INR)

Junior Management Grade – Scale I
Probationary Officer or Assistant Manager
23700 – 980 – 30560 – 1145 – 32850 – 1310- 42020
Middle Management Grade – Scale II
Manager
31705 -1145 -32850 -1310 -45950
Middle Management Grade – Scale III
Senior Manager
42020 -1310 -48570 -1460 -51490
Senior Management Grade – Scale IV
Chief Manager
50030 -1460 -55870 -1650 -59170
Senior Management Grade Scale V
Assistant General Manager
59170 -1650 -62470 -1800 -66070
Top Management Grade Scale VI
Deputy General Manager
68680 -1960 -76520
Top Management Grade Scale VII
General Manager
76520 -2120 -85000
Executive Director (ED)
Approx. 1.5 + lac
Chairman and Managing Director (CMD)
Approx. 2 + lac
As per the above table, the Bank PO's can be grown up to the post of Chairman and Managing Director within 20 years.
Know the procedure of becoming PO for IBPS and SBI Banks and opt the easiest one!
The candidates need to appear in the recruitment exams conducted by both the authorities. If any candidate wants to become an IBPS PO or SBI PO, then he/she will have to qualify the IBPS PO Recruitment Exam or SBI PO Recruitment Exam respectively.
But to become a part of these different competitive races, candidates have to go through various steps – Eligibility Criteria, Knowing the Exam Patterns and Syllabuses and then study accordingly, filling up the online application form etc.
Both the exams have almost similar procedures except their Exam Patterns for Main Phases! Below we have mentioned the IBPS PO and SBI PO Mains Exams Patterns.
IBPS PO Main Exam Pattern
S.No.

Name of Tests

No. of Ques

Maximum Marks

Time allotted for each test

1.
Reasoning
50
50
40 Minutes
2.
English Language
40
40
30 Minutes
3.
Quantitative Aptitude
50
50
40 Minutes
4.
General Awareness (with special reference to Banking Industry
40
40
20 Minutes
5.
Computer Knowledge
20
20
10 Minutes
Total
200
200
140 Minutes
SBI PO Main Exam Pattern
SBI PO Main Exam is conducted within two test papers – Objective Type and Descriptive Type.
SBI has released the exams dates for PO Exam. Online Preliminary Exam will be conducted on 01st, 07th and 08th July 2018 and Main Exam will be on 04th August 2018. To know the complete details, you can visit the official website.
For Objective Type
S.No.

Name of Tests

No. of Ques

Maximum Marks

Time allotted for each test

1.
Reasoning & Computer Aptitude
45
60
60 Minutes
2.
Data Analysis & Interpretation
35
60
45 Minutes
3.
General Economy & Banking Awareness
40
40
35 Minutes
4.
English Language
35
40
40 Minutes
Total
155
200
3 Hours
For Descriptive Type
English Language (Letter Writing & Essay) – 50 Marks in 30 Minutes Time Duration
Apart from these tests, the selection round consists of two more phases – Group Discussion and Personal Interview.
IBPS PO consists of Personal Interview (100 marks), while in SBI it is Group Discussion (20 marks) and Personal Interview (30 marks).
The candidates are required to qualify in the Descriptive Test by securing passing marks, to be decided by the Bank. Descriptive Test paper of only those candidates will be evaluated who have scored qualifying marks in the Objective Tests and are placed adequately high as per total marks in Objective Test.
[su_note note_color="#e7f7fb"]
Here below, we have provided the quick links for IBPS PO, you can visit them for SBI PO also.
Bank PO Online Application Process
Bank PO Study Material and Preparation Tips
[/su_note]
Summary
As per the above information about SBI PO vs IBPS PO, SBI PO scores more than IBPS PO in terms of Salary and Employee Benefits.
But when we think about the recruitment procedure, then IBPS PO definitely wins the race as its recruitment process is much easier than SBI PO and candidates can easily qualify this paper.
#The difficulty level of SBI PO is more difficult than the IBPS PO.
Eduncle accomplishes you with all the IBPS PO Preparation Essentials and help you score more in exam! Grab them within best deals now!
"Also check out – IBPS PO Study Plan!"
Please share your valuable suggestions with us in the comment section below!
For more related updates, stay in touch on Eduncle Facebook and Eduncle YouTube!
Thanks and All the Best Folks!