"Think like a proton and stay positive"
BSc or Bachelor of Science degree opens up a number of career options for the candidates. Whether you are from Maths, Chemistry, Physics or Biology, BSc degree holder can always go for research work, advanced studies or career in related areas.
After pursuing a BSc Chemistry candidates can go for different job opportunities. But we advise you to first pursue MSc degree in Chemistry through IIT JAM Exam and then head-out to secure a job.
Do you want to Pursue M.Sc. after B.Sc.? Take IIT JAM & Get Admission in IITs. Download FREE Study Material to Start Your Preparations
BSc Chemistry Scope - Career in Chemistry after Graduation
Nowadays most of the industries use the chemicals in everything directly or indirectly like in pharmaceuticals, electronic products, construction even in food products.
This creates an opportunity for chemical science graduates, as they have vast and in-depth knowledge about the different types of chemicals, compositions and their properties.
The research laboratories, industries (mainly chemical & pharmaceutical) and colleges & universities are the three major sectors where they recruit the chemical graduates.
Scope for Higher Studies after BSc Chemistry
After graduating, one can also opt for postgraduate studies to get a sturdy hold of their chemical passion such as Masters in Chemistry.
Why Choose Master of Science (Chemistry)?
Diverse career opportunities
Finest and reputed profession
High paid jobs in government and private sectors
M.Sc. Chemistry: Course Highlights
Program Level
Postgraduate
Full Form
Master of Science in Chemistry
Duration
2 years
Eligibility
Graduation (Chemistry as one of the main subjects at 10+2 level)
Admission Process
Entrance Exams
Direct Admission to College
Course Fees
Up to 50,000 (Approx.)
Top Entrance Exams
IIT JAM
BHU Entrance Exam, Indian Institute of Science MSc
Chemistry Entrance exam
Top 5 Colleges
Loyola College, Chennai
Madras Christian College, Chennai
Stella Maris College, Chennai
Hansraj College, New Delhi
Ramjas College, New Delhi
Note: Most of the students go for IIT JAM Exam to complete their Master's Degree through top colleges in India like IITs, NITs, CFITs etc.
Download IIT JAM Exam Sample Study Material for Free
Some of the academic PG degrees you can pursue after BSc Chemistry for bright future are listed below:
MSc Analytical Chemistry
MSc Applied Chemistry
MSc General Chemistry
MSc Inorganic Chemistry
MSc Instrumental Analysis
MSc Medical Chemistry
MSc Molecular Chemistry
MSc Organic Chemistry
MSc Physical Chemistry
MSc Theoretical Chemistry
MSc Drug Chemistry
MSc Pharmaceutical Chemistry
MSc Physical & Materials Chemistry
MSc Bio-Chemistry
Master's degree in Computational Chemistry
M E. / M Tech in Chemical Engineering
Higher Studies after MSc in Chemistry
If you really find the chemistry between you and this field sparkling you to pursue higher studies after MSc Chemistry can opt for courses like MPhil Chemistry or PhD in Chemistry.
If you are interested in regular PhD after your post-graduation, you can appear in various exams like GATE JRF, TIFR, CSIR NET JRF etc., depending upon your field of study and choice of the universities and colleges.
If you are interested in applying for the Integrated PhD courses right after your graduation, then you can go for exams like IIT JAM Exam, GATE etc. to get into the Best PhD universities in India.
Certification Courses After BSc Chemistry
There are a few options of certification courses available after BSc Chemistry that help you reinforce your academic prowess, out of which a very common one is PGDAC (Post-Graduate Diploma in Analytical Chemistry).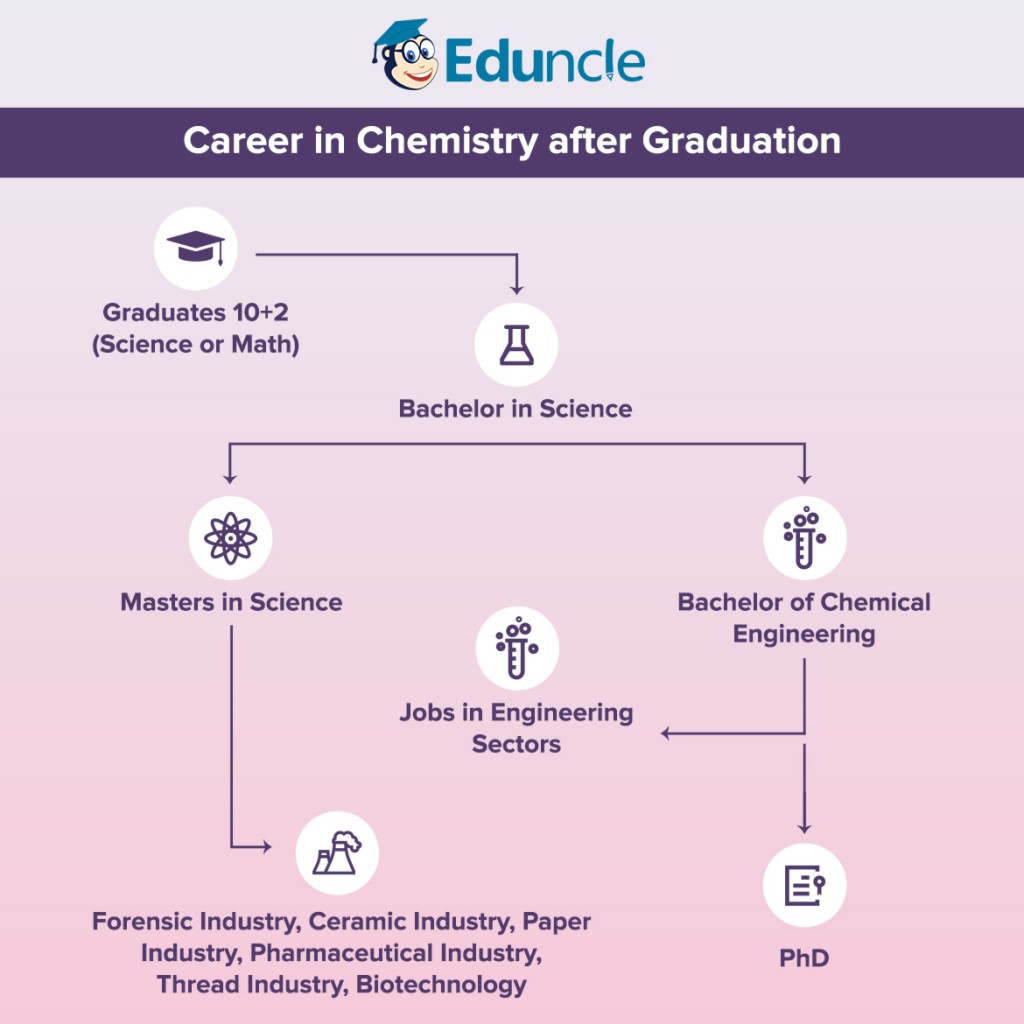 Career in Chemistry in India after BSc
Employment Areas for Bachelor of Science [BSc] Chemistry – BSc Chemistry graduates can find a career in Chemistry in the following sectors –
Chemical Laboratories
Clinical Laboratories
Health Care Industry
Pharmaceutical Companies
Cosmetics and Perfume Industry
Military Hospitals
Fertilizer Plants
Energy Firms
Forensic Labs
Government Jobs like – Banking, SSC, Railways etc.
Thus, the subject of Chemistry can offer a wide range of employment opportunities to candidates in both private as well as government sectors.
BSc Chemistry candidates can also pursue their career in the field of teaching and technical writer.
Job Profile for Bachelor of Chemistry
A sea of career options, starting from in industry, government to academic, are available for Chemistry graduates. Pick the one that's your call -
Chemist
Pharma Assistant
Geneticist
Lab Assistant
Clinical Research Specialist
Radiologist
Researcher
Lecturer
Toxicologist
Biochemist
Pharmaceutical Sales Executive
Cytologist
Technical Writer etc
Note: If you want to opt research career or willing to become a scientist you can go for CSIR NET Exam.
Grab the CSIR NET Preparation Stuff for Free and Score Well in the Exam! Hurry Up!
Top Recruitment Companies for B.Sc. Chemistry Graduates
Top companies in Chemical, Petrochemical and Pharmaceutical industry are:
SRF Limited
IGL businesses
Reliance Industries Limited
Gujarat Fluorochemicals
GHCL Ltd
Deepak Nitrite Limited
Gharda Chemicals
BASF India Ltd
Cipla
Solar Industries India Ltd
Glenmark Pharmaceuticals
Biocon
UPL Ltd etc.
Suggested Read –
CSIR Latest Recruitment Jobs – Scientists, JRF, Project Asst.
Some Stats for BSc Chemistry (Source – PayScale)
Here are some Key Stats that BSc Chemistry graduates must know like percentage wise no of male and female candidates go for a job, their salary, job satisfaction and in which cities they are mostly get recruits.
Percentage of Male Candidates - 79%
Percentage of Female Candidates - 21%
Salary – 1 to 10 Lakh per annum
Job Satisfaction while working after BSc Chemistry Degree – Highly Satisfied (Rated as 4 out of 5)
Popular Cities where candidates get recruits – Mumbai, Bangalore, Pune, Chennai, Hyderabad
Seeking Career Guidance after B.Sc.? Talk With Eduncle Counsellors & Get Free Assistance. Sign Up at Eduncle & Avail the FREE Benefits.
Final Note:
This is true that there has been a lot of development in the subject of Chemistry over the years, so there are great opportunities for the candidates in the future.
Eduncle suggest choosing the path as per your interest, abilities and satisfaction as every candidate has different talents, values, goals and interest.
We love to answer your queries so look no further; call us for assistance – 1800-120-1021 (toll-free). If you are seeking more information on MSc or PhD, feel free to comment us in the below section.
Thanks! All the Best