Padma Awards are one of the highest civilian awards of India. The Padma means "Lotus" in the Sanskrit language. It is categorized into three categories: Padma Vibhushan, Padma Bhushan and Padma Shri.
Each year, the Government of India honour various personalities every year on the eve of Republic Day for their contribution in various fields like -
Art,
Literature and Education,
Sports, Medicine,
Social Work,
Science and Engineering,
Public Affairs,
Civil Service,
Trade and Industry etc.
All persons without distinction of race, occupation, position or sex are eligible for these awards.
Below is the list of personalities which are rewarded with Padma awards for the year 2018. This blog will be really beneficial for the candidates who are preparing for the General Awareness section in various exams like SSC, IBPS PO, IBPS Clerk etc.
Here you can find the list of candidates which were selected for the Padma Awards by the President of India - Mr Ram Nath Kovind
The Padma Awards are divided into three sub-awards depending upon their rank in the civilian awards. These 3 Awards are given on the basis of work and the level of excellence to various Indian as well as foreign personalities.
Padma Vibhushan Winners 2018
The Padma Vibhushan is India's second-highest civilian honour after Bharat Ratna. It consists of a medal and a citation and is awarded by the President of India. The award consists of a bronze medallion with lotus on the front between the words 'Padma Vibhushan' written in Devanagari with Indian emblem on the back.
Here are those legends who are awarded by the Padma Vibhushan Award
| | | | |
| --- | --- | --- | --- |
| S. No | Name | Field | State |
| 1. | Shri Illaiyaraja | Art-Music | Tamil Nadu |
| 2. | Shri Ghulam Mustafa Khan | Art-Music | Maharashtra |
| 3. | Shri Parameswaran Parameswaran | Literature and Education | Kerala |
Padma Bhushan Winners 2018
The Padma Bhushan Award is the 3rd highest civilian award in India. The award consists of a gold-coloured medallion with a lotus on the front between the words 'Padma Bhushan' written in Devanagari script with the Indian Emblem on the back.
Here are people who received Padma Bhushan award: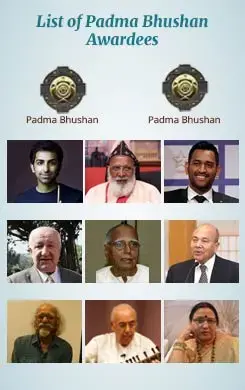 | | | | |
| --- | --- | --- | --- |
| S. No | Name | Field | State |
| 1. | Shri Pankaj Advani | Sports- Billiards/Snooker | Karnataka |
| 2. | Shri Philipose Mar Chrysostom | Others-Spiritualism | Kerala |
| 3. | Shri Mahendra Singh Dhoni | Sports-Cricket | Jharkhand |
| 4. | Shri Alexander Kadakin(Foreigner/Posthumous) | Public Affairs | Russia |
| 5. | Shri Ramachandran Nagaswamy | Others-Archaeology | Tamil Nadu |
| 6. | Shri Ved Prakash Nanda(OCI) | Literature and Education | USA |
| 7. | Shri Laxman Pai | Art-Painting | Goa |
| 8. | Shri Arvind Parikh | Art-Music | Maharashtra |
| 9. | Ms Sharda Sinha | Art-Music | Bihar |
Padma Shri Winners 2018
Padma Shri is the 4th highest civilian award in India. The award consists of a bronze medallion with a lotus on the front between the words 'Padma Shri' written in Devanagari script and the Indian emblem on the back.
Here are those legends who are awarded by Padma Shri Award
Sl. No
Name
Field
State
1.
Shri Abhay Bang (Duo)

Ms Rani Bang (Duo)

MedicineMedicine
Maharashtra Maharashtra
2.
Shri Damodar Ganesh Bapat
Social Work
Chhattisgarh
3.
Shri Prafulla Govinda Baruah
Literature and Education-Journalism
Assam
4.
Shri Mohan Swaroop Bhatia
Art-Folk Music
Uttar Pradesh
5.
Shri Sudhanshu Biswas
Social Work
West Bengal
6.
Ms Saikhom Mirabai Chanu
Sports-Weightlifting
Manipur
7.
Shri Pandit Shyamlal Chaturvedi
Literature and Education-Journalism
Chhattisgarh
8.
Shri Jose Ma Joey Concepcion III(Foreigner)
Trade & Industry
Philippines
9.
Ms Langpoklakpam Subadani Devi
Art-Weaving
Manipur
10.
Shri Somdev Devvarman
Sports-Tennis
Tripura
11.
Shri Yeshi Dhoden
Medicine
Himachal Pradesh
12.
Shri Arup Kumar Dutta
Literature and Education
Assam
13.
Shri Doddarange Gowda
Art-Lyrics
Karnataka
14.
Shri Arvind Gupta
Literature and Education
Maharashtra
15.
Shri Digamber Hansda
Literature and Education
Jharkhand
16.
Shri Ramli Bin Ibrahim(Foreigner)
Art-Dance
Malaysia
17.
Shri Anwar Jalalpuri(Posthumous)
Literature and Education
Uttar Pradesh
18.
Shri Piyong Temjen Jamir
Literature and Education
Nagaland
19.
Ms Sitavva Joddati
Social Work
Karnataka
20.
Ms Malti Joshi
Literature andEducation
Madhya Pradesh
21.
Shri Manoj Joshi
Art-Acting
Maharashtra
22.
Shri Rameshwarlal Kabra
Trade & Industry
Maharashtra
23.
Shri Pran Kishore Kaul
Art
Jammu and Kashmir
24.
Shri Bounlap Keokangna(Foreigner)
Others-Architecture
Laos
25.
Shri Vijay Kichlu
Art-Music
West Bengal
26.
Shri Tommy Koh(Foreigner)
Public Affairs
Singapore
27.
Ms Lakshmikutty
Medicine-Traditional
Kerala
28.
Ms Joyshree GoswamiMahanta
Literature andEducation
Assam
29.
Shri Narayan Das Maharaj
Others-Spiritualism
Rajasthan
30.
Shri Pravakara Maharana
Art-Sculpture
Odisha
31.
Shri Hun Many(Foreigner)
Public Affairs
Cambodia
32.
Ms Nouf Marwaai(Foreigner)
Others- Yoga
Saudi Arabia
33.
Shri Zaverilal Mehta
Literature andEducation-Journalism
Gujarat
34.
Shri Krishna Bihari Mishra
Literature andEducation
West Bengal
35.
Shri Sisir Purushottam Mishra
Art-Cinema
Maharashtra
36.
Ms Subhasini Mistry
Social Work
West Bengal
37.
Shri Tomio Mizokami(Foreigner)
Literature andEducation
Japan
38.

Shri Somdet Phra MahaMuniwong(Foreigner)
Others-Spiritualism

Thailand

39.
Shri Keshav RaoMusalgaonkar
Literature andEducation
Madhya Pradesh
40.
Dr Thant Myint – U(Foreigner)
Public Affairs
Myanmar
41.
Ms V Nanammal
Others-Yoga
Tamil Nadu
42.
Ms Sulagitti Narasamma
Social Work
Karnataka
43.
Ms VijayalakshmiNavaneethakrishnan
Art-Folk Music
Tamil Nadu
44.
Shri I Nyoman Nuarta(Foreigner)
Art- Sculpture
Indonesia
45.

Shri Malai Haji AbdullahBin Malai Haji Othman(Foreigner)
Social Work

Brunei Darussalam

46.
Shri Gobardhan Panika
Art-Weaving
Odisha
47.
Shri Bhabani CharanPattanaik
Public Affairs
Odisha
48.
Shri Murlikant Petkar
Sports-Swimming
Maharashtra
49.
Shri Habibullo Rajabov(Foreigner)
Literature andEducation
Tajikistan
50.
Shri M R Rajagopal
Medicine-PalliativeCare
Kerala
51.
Shri Sampat Ramteke(Posthumous)
Social Work
Maharashtra
52.
Shri Chandra Sekhar Rath
Literature andEducation
Odisha
53.
Shri S S Rathore
Civil Service
Gujarat
54.
Shri Amitava Roy
Science andEngineering
West Bengal
55.
Shri Sanduk Ruit(Foreigner)
Medicine-Ophthalmology
Nepal
56.
Shri R Sathyanarayana
Art-Music
Karnataka
57.
Shri Pankaj M Shah
Medicine-Oncology
Gujarat
58.
Shri Bhajju Shyam
Art-Painting
Madhya Pradesh
59.
Shri Maharao RaghuveerSingh
Literature andEducation
Rajasthan
60.
Shri Kidambi Srikanth
Sports-Badminton
Andhra Pradesh
61.
Shri Ibrahim Sutar
Art-Music
Karnataka
62.
Shri Siddeshwara Swamiji
Others-Spiritualism
Karnataka
63.
Ms Lentina Ao Thakkar
Social Work
Nagaland
64.
Shri Vikram ChandraThakur
Science andEngineering
Uttarakhand
65.

Shri RudrapatnamNarayanaswamy

Tharanathan (Duo)

Shri Rudrapatnam

Narayanaswamy

Thyagarajan (Duo)

Art-Music

Art-Music

Karnataka

Karnataka

66.
Shri Nguyen Tien Thien(Foreigner)
Others-Spiritualism
Vietnam
67.
Shri Bhagirath PrasadTripathi
Literature andEducation
Uttar Pradesh
68.
Shri Rajagopalan Vasudevan
Science andEngineering
Tamil Nadu
69.
Shri Manas Bihari Verma
Science andEngineering
Bihar
70.
Shri Panatawane GangadharVithobaji
Literature andEducation
Maharashtra
71.
Shri Romulus Whitaker
Others-WildlifeConservation
Tamil Nadu
72.
Shri Baba Yogendra
Art
Madhya Pradesh
73.
Shri A Zakia
Literature andEducation
Mizoram
Padma awards are given for exceptional and unique services in any field.
For more updates about exams like IBPS PO, IBPS Clerk & SSC exams and interesting blogs students must visit our website. We will be pleased to hear from our readers. So comment below and stay tuned at Eduncle!
Follow us on Facebook and YouTube!!
For more interesting stuff you can click on the below links:
Famous Mascots of Indian Brands