Being a topper is a dream of almost every student. If you are in Class 10th then you must be looking ahead to crack the exam with good marks or even becoming the topper. But do you know what it takes to become a CBSE Class 10 Topper?
In this blog, we are going to answer this question with every possible information we can deliver. To inspire you towards your goal, we are providing you the information about the toppers of CBSE Class 10.
In this blog, you will be able to know – What is the mindset of a topper? How do they prepare for the exam? What can you learn from them?
Along with this, you can also get the Answer Sheets of CBSE Toppers Class 10th. So, let's begin without wasting any time.
CBSE Class 10 Topper – 2018
The CBSE Class 10th result has been declared on 29th May 2018 by CBSE. Anil Swarup, the secretary of school education and literacy with the Union Ministry of Human Resource Development confirmed the result with a tweet.
Toppers of CBSE Class 10th 2018
Among 16,38,420 candidates who appeared in CBSE Class 10th Exam, 4 students have scored the highest marks. These 4 candidates scored 499/500 marks to jointly achieve the position of CBSE Class 10th Toppers. Let's know, who they are.
Prakhar Mittal – DPS, Gurugram
Nandini Garg – Scottish International School, Shamli
Sreelakshmi G – Bhawan Vidyalayas, Cochin
Rimzhim Agarwal – R K Public School, Bijnor
CBSE Class 10 Topper – 2017
The CBSE Class 10th Result was declared on 3rd June 2017. As per the result, Trivandrum region was able to continue its dominance in the list of CBSE Class 10th region-wise pass percentage.
In the year 2017, the pass percentage dipped by more than 5% countrywide as compared to the year 2016. The pass percentage was 90.95% while in the year 2016, it was 96.21%. To check the complete list of region wise topper of CBSE Class 10th 2017, visit – CBSE Class 10th Result.
Toppers of CBSE Class 10th 2017
Rank 1 -

Mridula Subramanyam
Mridula Subramanyam was the CBSE Class 10 Topper 2017, who scored 99.6 percentile in the Board Exam.
Mridula scored 100 out of 100 in Mathematics, Social Studies and English.
Mridula, a student of Apeejay School which is in Nerul, Navi Mumbai, Maharashtra. As per her interview with the Free Press Journal, she said,
"I solved papers and study in the morning so that I could get adequate sleep. I want to become a Chartered Accountant (CA) and will pursue the commerce stream."
In another interview with the DNA, she said,
"My favourite subject was Maths in which I scored a 100. I expected to score well, but not the highest. People should start studying from day 1."
Rank 2 -

Ayush Shah
Aayush Shah stood second in the list of toppers of CBSE Class 10th 2017.
Ayush scored 99.4 percent in the Boards Exam. He is a student from Sheth Karamshi Kanji English School at Mulund (West).
In an interview, Shah said,
"I was not expecting such high marks. I followed a normal pattern of studying regularly. I want to pursue engineering."
In another interview with the DNA, Shah said,
"My favourite subjects were Maths and Science. I used to study textbooks and would clear all doubts I had. There is no substitute for hard work."
CBSE Class 10 Topper – 2016
The result of CBSE Class 10th was declared on 28th May 2016. As per the result, there was a little fall in the pass percentage as compared to the result of the year 2015. The pass percentage of 2016 was 96.21 as compared to 97.32 in 2015.
Region-wise, Thiruvananthapuram was ahead of other regions with a pass percentage of 99.87 followed by Chennai region which had a pass percentage of 99.69 percent.
Toppers of CBSE Class 10th 2016
As per the result around 1,64,000 students from all over India scored perfect CGPA. Muskaan Vasandani scored the highest percentile among the CBSE Class 10 Topper 2016.
Rank 1 -

Muskaan Vasandani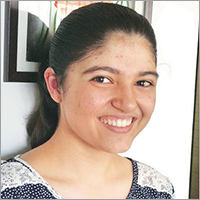 Muskaan, a student from Delhi Public School, Pune scored 99.6 percent in her CBSE Std X Board Exams.
Muskaa was taking art classes for the last 10 years. She used her art to de-stress during her preparations for the Board Exams.
According to an interview with the Indian Express, Muskaan said that she studied only for about 3-4 hours every day.
"I ensured I got up early, did a little bit of exercise and avoided junk food. It is equally important to stay healthy as it is to study well."
"I didn't even follow a rigid study plan. I also didn't attend any extra tuition classes whatsoever."
What to learn from CBSE Class 10 Toppers?
After hearing the success stories of the CBSE Class 10 Toppers, what did you learn? If you think that they were born genius, then you got the wrong assumption. Always remember,
"Hard-work beats talent every time"
The dedication of these toppers was so immense that they were able to get in the list of toppers of CBSE Class 10. But, can you get on top with dedication only? Not really. Being dedicated doesn't mean that you have to study 16 hours a day, leaving your sleep and food. Let's get some tips from these CBSE Class 10 toppers to prepare well for the exam.
Have the Complete Information: The first step of every preparation is gaining the complete information about the exam. Lack of information can cause a serious damage to your dream of becoming Topper of CBSE Class 10th. So, always have the appropriate information about CBSE Class 10th Exam Pattern and Marking Scheme.
The Right Balance: A right balance in your studies is the best way to fight stress. Keeping yourself indulge in other productive activities will be helpful in fighting the exam stress. Most of the toppers try to maintain a balance between studies and other activities to overcome their stress.
Fighting Parental Pressure: More than students, it is the parents who put pressure on their kids. Try not to lose your concentration and stay focused. Although it's not going to be easy but try to convince your parents being more supportive than putting pressure.
Every kid has their own strengths. The comparison with the "Sharma Ji ka beta" will make things worse only.
Never become Over-Optimistic: Having expectations from yourself is a good thing. Being Optimistic and aiming higher helps you in achieving more than your limits. But being Over-Optimistic is a dangerous thing. It leads you towards stress and overthinking.
None of the CBSE Class 10thToppers were having this goal in their mind that they have to top the results. They simply worked on their mistakes, learned from them, and tried to do as best as they can.
So always be aware of your abilities and try to do your best in every attempt and learn from your mistakes.
Avoid making Long-Term Goals: None of the toppers of CBSE Class 10 were having in mind that they have to become the topper. There was no such long-term goal in their mind.
Avoid making long-term goals because they usually fail. It is hard to stick to the long-term goals because they easily get affected by any circumstances. Make a short-term goal, achieve it in minimum time and move on to the next goal.
Never compromise your sleep and food: You can be most productive when you have a healthy body. So, take care of your body as it is the biggest asset you have. Try to take at least 6-8 hours of sleep.
Never skip the food. And by food, it doesn't mean fast food. Eat healthy to have the right nutrients for your body.
We hope that the above points were able to give you the glimpse into the habits of toppers of CBSE Class 10th. There is no rocket science in this, it's as straight as possible. Implement them and try to do your best.
That's all about the habits which toppers possess. Now let's know how a topper solves a question paper.
In the section, you can get the answer sheets of CBSE toppers Class 10th. Through these answer sheets, you can prepare yourself to attempt the question paper more efficiently.
Answer Sheets of CBSE Toppers Class 10th
Each year CBSE releases the model answer sheets to provide a basic idea to the students about the best possible way to attempt the question papers. Through these CBSE Topper Answer Sheets of Class 10th, you can learn a lot about the mindset of the examiner, also how can you convince the examiner to give you the best marks.
CBSE Class 10 Toppers Answer Sheet 2017
You can directly view or download the answer sheets of CBSE Toppers Class 10th by clicking on the links of the respective subject.
CBSE Class 10 Toppers Answer Sheet 2016
Click on the links given below in front of respective subjects to download the Answer Sheets of CBSE Toppers Class 10th 2016.
Hope this article has filled you with the perception to become a topper. Always remember, No One is a Born Genius. It's the effort that makes them genius. If you like this article, you can like our Facebook Page to get more such valuable information. You can also subscribe to our YouTube channel for preparation videos.