Staff Selection Commission conducts Combined Graduate Level (CGL) Exam to recruit candidates in various Government Departments and their Subordinate Offices. Lakhs of candidates start their journey with the dream of getting employed in government sectors and ministries.
Once you clear the SSC CGL 2018-19, depending on the post that you have applied for, you can steadily climb the career ladder. These jobs are quite in demand because of the high salary and the power that it offers in government organizations.
Download Mock Test Papers for SSC CGL 2018-19 and let your success Journey started.
This race has always been difficult due to the number of seats vacant and the huge number of candidates that apply. To beat lakhs of students, candidate needs some perfect study plans. And with plans here are some important things that you should know before you enter the examination hall for your final call.
SSC CGL 2018-19 Must Know Things
These things should be like an alarm bell in the ears of students before they appear for the examination.
Avoid Taking these Restricted Articles Inside the Examination Hall
As Per the guidelines issued for CGL examination by SSC, candidates appearing in the SSC examinations would not be allowed to appear in any future examination if carrying any incriminating articles such as:
Books, magazine or any electronic gadgets such as mobile phones and accessories, bluetooth devices, pen camera, button hole camera, scanner calculator etc.
It is always wise to follow these rules formed by CGL exam conducting body.
Tip: Follow SSC CGL 30 Days Plan to crack the SSC CGL 2018-19 exam.
Punctuality – Yes, Be on Time!
You should be present in the Examination Hall at least half-an-hour before the exam.
You will not be allowed to leave the Examination Hall until the exam is over.
Candidates arriving after a commencement of the examination will not be permitted to enter the Examination Hall.
Be Careful While Mentioning Information on the Answer Sheet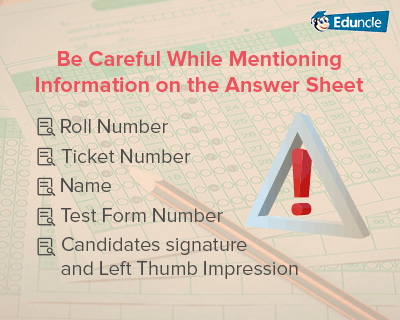 You should furnish and code all information required on the answer sheet such as Roll Number, Ticket Number, Name, Test Form Number, etc., failing which the answer sheet will not be evaluated and zero marks will be awarded.
Answer sheet without the signature of the candidate and Left Thumb Impression will not be evaluated.
It is the responsibility of the candidates to ensure that they sign in the space provided and also affix Left Thumb Impression.
If the candidate belonging to SC, ST, OBC, Ex-S or PH category does not code his details, he will be treated as UR candidate.
Be Fully Versed With the Scheme of Examination and Syllabus
Before appearing in the SSC CGL examination, candidates should be aware of a complete syllabus and marking scheme.
Since there is a change in the paper pattern this year, you need to be more careful while you appear for SSC CGL examination.
Get the new SSC CGL paper pattern and marking scheme here.
Follow the link to get complete SSC CGL syllabus - SSC CGL Syllabus 2018-19 for Tier 1, 2 & 3 exam [Updated]
Multiple Choice Type Question Paper
Since SSC has changed the pattern for the SSC CGL examination.
Now, there will be a computer based test.
Therefore, questions will be 'Objective Multiple Choice Type' which contain four alternative responses (answers).
All parts except the English Language will be printed in both Hindi and English.
Important Note: There is another key thing which is important for SSC CGL candidates before they appear for SSC CGL 2018-19.
Entry tickets can lead your path of success. Without admit card you won't be allowed to enter the examination hall.
You should download and check complete details in SSC CGL Admit Card 2018-19.
We will provide you every important information regarding the release of admit cards. Kindly follow the link SSC CGL Admit Cards 2018-19
Download customized study material and crack SSC CGL 2018-19 with Eduncle!
It is said that "The more you share, the more you have." So share if you liked the information.
You can also comment your views and queries in the comment box provided below. You can also suggest us the topics which will help you in your preparation. We will surely write about that.
Thank You !!