The National Eligibility cum Entrance Test, popularly known as NEET, is the gateway for Medical & Dental UG Courses offered by India's famous Medical Institutes. The score of the NEET Exam is considered by all the medical organizations to provide admission in various MBBS/BDS courses.
Every year lakhs of aspirants appear in this exam, which is the reason behind raised competition level of NEET. It's an entrance exam which tests your knowledge of Biology, Physics and Chemistry subjects.
NEET Chemistry is the highest scoring section out of these three sections. This subject can increase the selection chances if prepared well. In this article, we will highlight the important aspects of Chemistry for NEET Exam Preparation.
NEET Chemistry – The Most Scoring Subject for Aspirants!
Do you know that why Chemistry is the most scoring subject in NEET! The level of questions asked in NEET Chemistry is easy to moderate. The chances of mistakes and errors in this subject are minimum than of NEET Physics and Biology. With a little effort, you can extract maximum marks in this subject.
Chemistry is divided into three sections i.e. Physical, Organic & Inorganic Chemistry.
The questions asked from Inorganic are unambiguous. If you learned the chapters appropriately, then you can answer those questions with confidence.
If you want to score well in Physical & Organic Chemistry for NEET then start practicing on a regular basis for these two sections.
NEET Exam Paper Pattern - Know About Complete Structure
NEET Exam Pattern includes complete details of the test such as the total number of questions asked in the exam, type of questions, marking scheme of NEET, etc.
Candidates preparing for this exam should know about the NEET Exam Pattern which helps to prepare in a much better way.
The NEET Chemistry paper contains 45 Questions.
The mode of exam will be Pen and Paper based mode.
The total duration of the NEET Exam is 3 Hours.
The exam will be conducted in 11 different languages which are as follows - English, Hindi, Assamese, Tamil, Gujarati Bengali, Telugu, Marathi, Oriya, Urdu and Kannada.
+4 marks will be rewarded for every right answer and there will be a penalty of 1 mark for every wrong answer.
In NEET 2019 Chemistry, questions were asked in three distinct levels -
27 questions of easy level
13 questions of medium level
5 question of difficult level
How to Study for NEET Chemistry? Quick Strategies and Preparation Tips!
There is no doubt that the National Eligibility cum Entrance Test is a tough examination. Candidates who are preparing for NEET Exam might be looking for preparation tips to get qualified for the exam. A well-planned execution always pays off.
Here we are sharing some preparation tips for all three sections of Chemistry that you must follow to score well.
NEET Physical Chemistry
Understanding the concepts is one of the most important parts to prepare for Physical Chemistry.
You will not be able to solve the numerical if you don't understand the concepts. In order to prepare for Physical Chemistry, you must have a strong grip on the NCERT book. Write down all the important formulas from the chapters and practice the previous year's numerical questions related to those formulas.
Chances of theory-based questions are lesser than numerical questions in physical chemistry. With regular practice, you can score good marks in it.
Organic Chemistry for NEET
Organic Chemistry is completely different from the other sections of NEET. To get better marks in this subject, you need to memorize all the reactions, equations, and formulas which are given in NCERT and other Chemistry Books for NEET.
You must know the names of various compounds that constitute reagents, subtracts, etc. Practice through the variety of questions of Organic Chemistry to take command over it.
Here are some important formulas of Organic Chemistry that you must know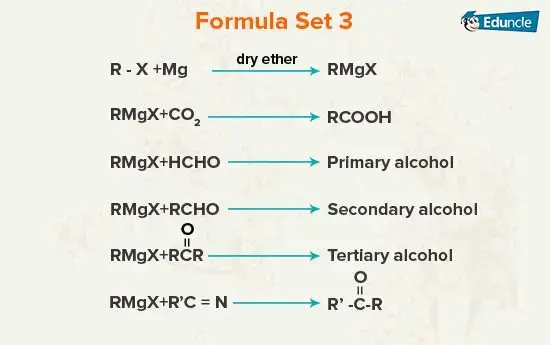 NEET Inorganic Chemistry
It's one of the easiest sections of NEET Chemistry and you can solve this section in very little time than the other two sections. The best way to prepare for Inorganic Chemistry is to practice through the NCERT book. No numerical or formula-based problems are asked on this subject, which saves time for solving other questions. You need to go thoroughly from the basic concepts. Don't dive straight into the details.
NEET Chemistry – Important Topics with their Weightage
Many aspirants are not able to figure out the important topics of Chemistry from the examination point of view. As per the analysis of previous years' NEET Chemistry Questions.
Here we are highlighting the section-wise important topics with their weightage in the table below.
Physical Chemistry

Inorganic Chemistry

Organic Chemistry

Mole Concept and Stoichiometry

(5.1%)

Classification of Elements and Periodicity in Properties

(10.5%)

Organic Compounds Containing Oxygen

(30%)

Atomic Structure

(10.2%)

D and F - Block Elements

(12.4%)

Basic Principles of Organic Chemistry

(24.4%)

Thermodynamics and Thermochemistry

(13.1%)

Co-Ordination Compounds(17.6%)

Chemistry of Environment and Everyday life

(11.3%)

Redox Reactions and Electrochemistry

(7.3%)

Chemical Bonding and Molecular Structure(29.4%)

Organic Compounds Containing Nitrogen

(10.6%)

States of Matter and Solutions

(24.1%)

Hydrogen and S Block Elements(7.8%)

Biomolecules and Polymers

(11.9%)

Surface Chemistry

(7.3%)

P - Block Elements(13.7%)

Hydrocarbons and their substituents

(11.9%)

Equilibrium

(18.2%)

Practical Chemistry

(8.5%)

_

Nuclear Chemistry and Chemical Kinetics

(14.6%)

_

_
Chemistry Books for NEET
Having precise study material is necessary for perfect preparation. Top-notch NEET Chemistry Books are the keys to opening the gateway for MBBS & BDS Colleges.
Here we are suggesting some of the Best Chemistry Books for NEET which should be preferred to get the best results
| | |
| --- | --- |
| Name of Book | Author |
| NCERT Chemistry | NCERT |
| Physical Chemistry | O.P. Tandon |
| Concise Inorganic Chemistry | J.D. Lee |
| Organic Chemistry | By M.S. Chouhan |
| Modern's ABC of Chemistry for Class 11th and 12Th | _ |
Following are other important NEET Chemistry Preparation Tips to be implemented when preparing for the exam
As NEET Chemistry Syllabus covers your Board Exam syllabus, and there will be few chapters common in both exams. So, you need not prepare these topics separately. This will help you to save your time and you can use this time for covering other important topics.
You have to solve 180 questions in 3 hours. So, it's mandatory to manage your time. Solving NEET Previous Year Question Papers and mock tests are the best practice to improve your speed and performance.
Try to work more on your weaker areas. It will be helpful to improve your overall performance in NEET.
You can borrow some NEET Chemistry Notes from qualified candidates or make your own short notes while preparing for the exam. These notes also help you a lot at the time of revision.
Avoid making predictions during exams. You should remember that there will be negative markings in the exam.
Solve NEET Chemistry MCQs of all the topics as much as you can.
We hope that the article is beneficial for you to give your best in the exam.
If you have any queries related to this article, you can leave them in the comment box given below. Our experts will solve your queries at the earliest.