Institute of Banking Personnel Selection (IBPS) conducts various exams such as PO, Clerk, SO, RRB every year. In India, IBPS Exam is one of the most popular government exams among the students. Every year, lakhs of the students apply for every single exam to get the job in banking sector. To crack banking exams, candidates have to go through three stages: -
Prelims Exam
Mains Exam
Personal Interview
IBPS Clerk, IBPS RRB Office Assistant exams has no interview process. If you have cleared the written exam and get your name in the merit list, then you will get a bank job.
After clearing the main examination, candidates focus on the next level of the exam i.e. Interview process. Because the final selection totally depends on how well you answer the interview question. This round will be conducted by the participating organizations and the nodal bank in each state.
Why Personal Interview is important for Bank Exams?
It is mandatory to prepared well for final round i.e. Interview to get the post in the banking sector. It carries 100 marks in the exam. The minimum marks which are required to qualify for this round is 40% for general category and 35% for other category candidates.
The Interview round is the test to check the candidates' personality, capability, potential which make them worthy of holding a position. Interview helps you to know about your strength and weakness, leadership qualities will power through your speaking skills.
Before providing a complete guidance of IBPS Interview round, below we have mentioned a set of questions which are generally asked in face to face interview: -
Tell me something about yourself?
What is the reason you come to this side (Banking Sector)? (If a candidate is from an engineering or other backgrounds)
Questions can be asked based on your education.
Strength and weakness of your personality.
Why are you opting for the banking sector?
Why should we select you? What qualities do you have that others don't have?
If you get a posting far away from your hometown, will you work?
Check - Important Tips for Bank Interview
We have mentioned all the Bank related topics which are generally asked by the participating organizations. The list of that topics: -
The principle of Core Banking
Bank Functions, Types of Cheque, bank account, risks
Reserve Bank of India (RBI)
Financial System of Banks
Priority Sector Banks and Mutual Funds
Bank KYC, Types of ATMs, Banking Channels
Let's start the first chapter!
The Principle of Core Banking
The Centralized Online Real-time Exchange banking (Core Banking) is a banking service in which you can access your bank account from any branch of your bank. It is a web-based solution that helps the banks to solve the problems and provide many services such as calculating interest, making and servicing loans, opening up brand new accounts, establishing Interest Rates and keeping a track of records for all the bank transactions to the customers.
The banking system works on five basic principles of core banking: -
Intermediation
Profitability
Trust
Liquidity
Solvency
Know More – Principle of Core Banking
Get the Free IBPS Study Material designed by Experts
Intermediation
The Bank works as a "financial Intermediaries" who provide a fund to the loan takers from depositors.
Many people who have extra money and they are not used immediately. They need a safe place from where they can easily access their money and get it back anywhere/ anytime when required. Those people can open a bank account and safely keep their money.
Generally, You would see that most of the people take a Loan for the purpose of business, education, medical, personnel when they need extra money. Those people go to the bank and can take money (loan) for a period of time.
Imagine, if a bank doesn't play a role of intermediator means banks don't provide loans and don't keep extra money, then where would you go? Hence, Bank plays a very important role between the depositors and borrowers.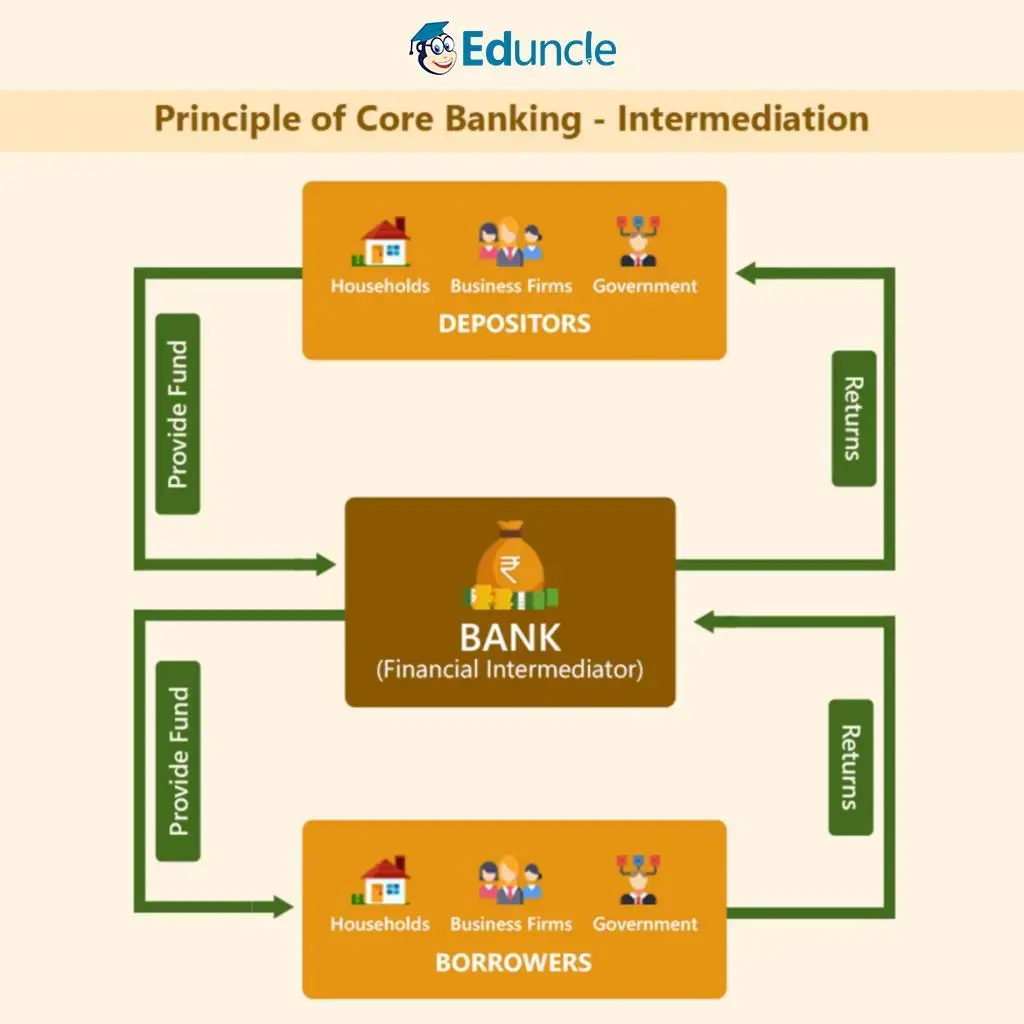 Profitability
Every business needs profit for a business growth and to survive in the market. If your financial system is stable, then your market risk will be less.
Banks are one of those which provide services such as bank statements, locker services, AC Banks, ATMs, loans, Branches to the customers as per their requirement and takes some fee in return as charges or interests so that it can deliver best facilities to the customers.
Thus, earning profits is very essential for a bank to be able to continue its operations.
Trust
A bank can't survive without the trust of customers. Think about it - why you will deposit your money in a bank when your money will not be safe. So, the trust factor is very important in the banking field. you deposit your earned money in your bank because you know: -
No one can use your money. When You need your money, you can go to bank's branch and get your money easily.
Bank provides you some interest in return.
This is the trust you have on your bank that it is taking care of your money.
Liquidity
Generally, people don't know about the term of Liquidity. Some questions arrive in their mind such as what is the liquidity? Why is it so important?
In the banking sector, Liquidity is the ability to convert an asset into cash. It is also an ability to buy or sell a security without affecting the asset's price.
Imagine, you want to withdraw your money for any purpose and your bank says they don't have cash. That will be wrong. Thus, the banks always have cash so that when you need your money, you can withdraw easily. Bank has the ability to provide immediate loans, cash through ATMs, the big amount on maturity of Fix Deposit (FDs) because of the liquidity.
In one word - Immediate availability of cash – to pay off short-term obligations – is liquidity.
Solvency
You can say that solvency is the just opposite from liquidity. It is the ability to meet long-term obligations. The long-term ability can be debenture, bonds, shares issued, Government Employees' Pensions and retirement funds etc. It is a very important financial parameter for any business purpose.
We have provided all the important details of the Principle of core banking which is generally asked in IBPS PO Interviews. We will also provide the above-mentioned topics details very soon.
If you found this article helpful, then share with candidates who are preparing for IBPS Interview.
If you have any doubt regarding this page, you can ask our experts through the comment box. We will definitely try to solve your queries as soon as possible.