The NEET 2019 exam was conducted on 05th May 2019. When lakhs of students came out of the exam center, most of the students were facing a common doubt – were there any wrong questions in NEET 2019?
Many renowned coaching institutes from Kota like Allen, Resonance, Career Point, Rao IIT, releases solved papers and NEET Answer Keys every year. After looking at this year's question paper, these institutes reported errors in some questions. According to them, there were some wrong questions in NEET 2019 whose answers are debatable.
This debate over NEET 2019 wrong questions will maintain its existence until the official NEET 2019 Answer Key will be released for NEET 2019. Below, we are mentioning the list of allegedly wrong questions from NEET 2019 Paper for the students
Also, check the NEET Controversies that affected almost 13.26 lakh candidates last year.
Total Number of NEET 2019 Wrong Questions
This year many students and coaching institutes reported errors in some question asked in Physics and Chemistry. No errors were reported in Biology section.
According to the prominent coaching institutes, there are at least 3 questions with mistakes in different sections of NEET 2019. As per the experts from these coaching institutes, following are the number of doubtful questions from 2 sections of the NEET 2019 exam:
Physics: 1 question
Chemistry: 2 questions
NEET 2019 Wrong Question – Physics
The Physics section was comprised of 45 questions. Among these questions, only 1 question was reported containing errors. This controversial question is given below. Check it out!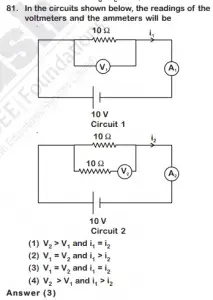 Download NEET 2020 Model Papers with Solutions
Wrong Questions in NEET 2019 – Chemistry
Like Physics section, the Chemistry section was also comprised of 45 questions. Among these questions, the coaching institutes have reported doubts in 2 questions. Let's check these 2 doubtful questions asked in NEET 2019 Chemistry section.
NEET 2019 Wrong Questions – Biology
The Biology section is the major section of NEET exam as this section alone carries 90 questions. Among these 90 questions asked in the exam, no question was there on which the coaching institutes reported objection.
This uncertainty in the answers of NEET 2019 wrong questions will continue to confuse all the candidates until the next notification. There many be a sigh of relief when NTA will release the official answer keys.
Candidates are recommended to wait for the official answer keys to know whether there are any bonus marks or not. If there are, then bonus marks will be granted in your NEET 2019 Result.
What are your opinions on the answers? Have you faced the similar issue with some other questions? Feel free to tell us in the comment section below and our expert team will get back to you ASAP.
All the Best!